myTeam allows team administrators a full list of features to build the functionality you want for your team website. Your not stuck with any pre-made list of pages and table you don't want.
Schedule
Schedule your games by selecting the competition, season, and the teams.
Roster
List players with basic information or a full profile page with statistics.
Staff
Display your team staff with names, title, contact information, photo, and bio.
Statistics
Each sport comes with a set of pre-made statistics and you can create any custom statistic you want.
Newsletter
Send emails to players, parents and staff with full subscription services.
Standings
Provide a table of the current standings for your team and competition
Blog
Post to your blog in to keep players, parents and fans up to date.
Photo Gallery
Upload photos and present galleries of your teams, competitions, and tournaments.
Custom Design
You can brand the website with your color scheme, logo, fonts, and header images.
Easy to Use Calendar
You can create Calendars to present a full schedule of events. Calendars are an effective way for the team to stay informed about upcoming games with a list of opponents, dates, time, home/away, and venues.
Event Details Page
An Event Page is automatically created for each game in the schedule. These pages provide the teams, date, time, home/away status, location, and a Google Map for driving directions. After the game, the results are automatically updated. The player roster is populated with statistics. You can also provide a recap to record a summary of the game.
Share the Team Calendar
Share links with team members so they can synchronize the team schedule with their work and personal calendars using Google, Apple (iCal), and Outlook. With one click, your full game schedule will be instantly imported into their calendars and any future changs will also be updated.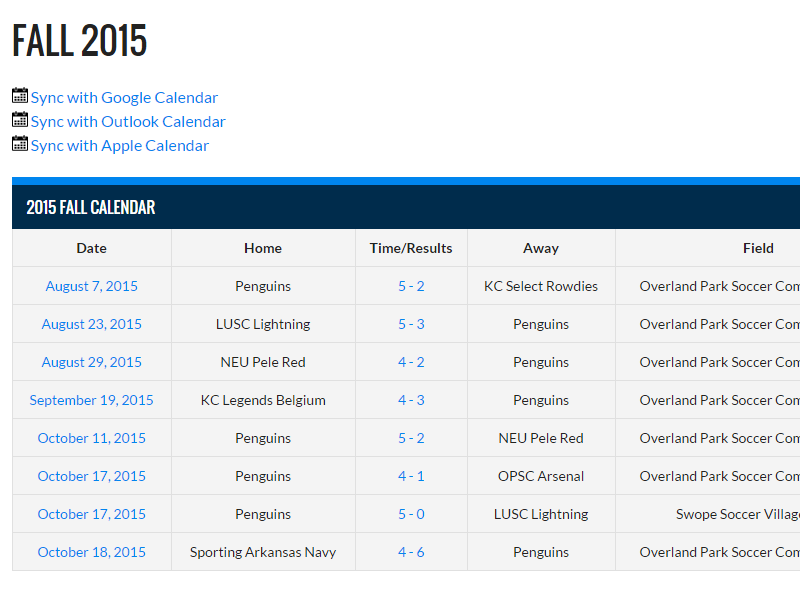 Maps and Fields
Venues are displayed in myTeam in both Calendars and Event detail pages. Venues provide interactive Google Maps so parents, fans and staff have driving directions.

We also recommend developing a dedicated "Fields & Map" page, with complete details for all venues such as address, description, Google map, rain cancellation numbers, and printable field maps.
Display Calendars in 3 Styles
Schedules can be displayed in 3 styles: Lists, Monthly Calendars, and Blocks.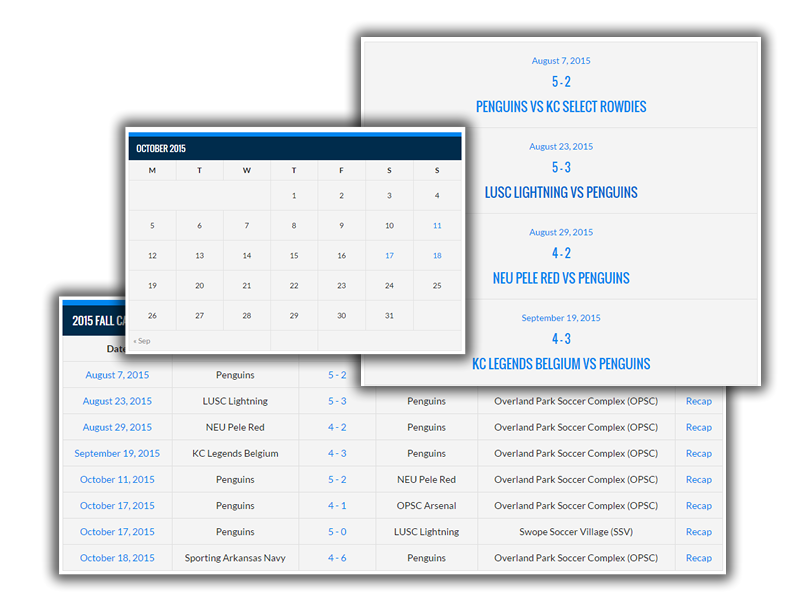 Animated Countdown Timer
The optional Countdown Timer instantly provides visibility to your upcoming game. Clicking the timer displays the event details page with all details and interactive Google Maps for the venue.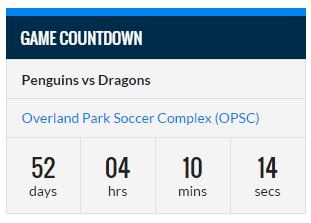 Your Team's Player Roster
The Roster is a complete list of your players. myTeam has several options to display information such as names, positions, jersey numbers, and performance statistics.

You can create multiple rosters depending on your organization's structure. Have a squad A and B teams? Varsity and Junior Varsity? Boy and Girls? U12 and 13 age divisions? No problem.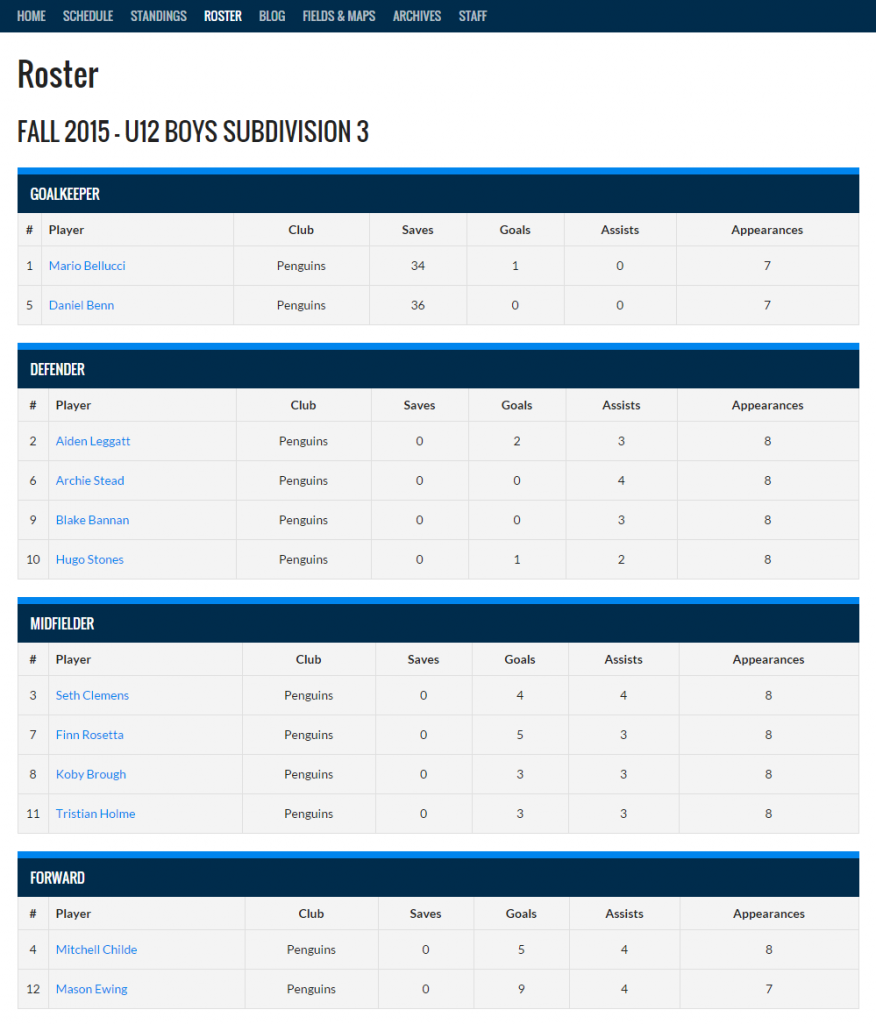 Dedicated Page for Player Details (optional)
The optional player detail profile page is linked from each player's name in the Team Roster. The Player detail page displays can display current and previous teams, jersey number, position(s), photo, career statistics, and a biography. Statistics are automatically populated when Events are updated.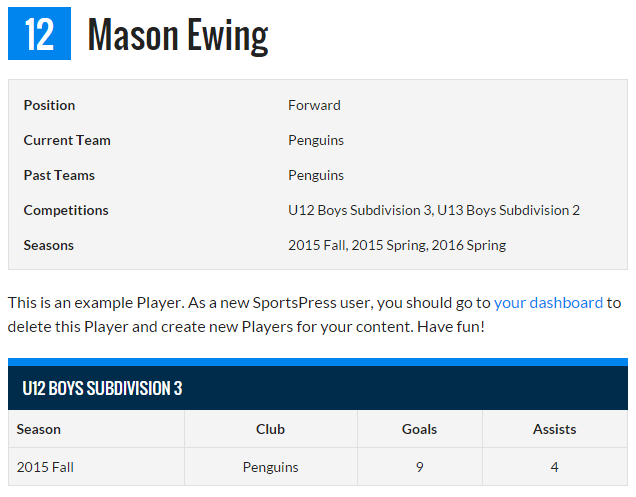 Staff & Team Contacts
myTeam allows you to display your staff and team contacts in various ways.

A common approach is to develop a Staff page, which can contain the name, title, photo, biography, and contact information for each staff member.
Track Team Performance
Standings are a listing of teams in your league/division/bracket that you are competing against showing their win/loss records and standing compared to other teams. The data presented (columns) is customized based on the sport you compete in. You can label the standings table anything you want: "Standings", "Results", "Leaderboard", etc.
Columns are sortable by clicking the column headings (optional). Your team row will be highlighted.
Archives of previous season standings are preserved in myTeam and can be displayed on your website if desired.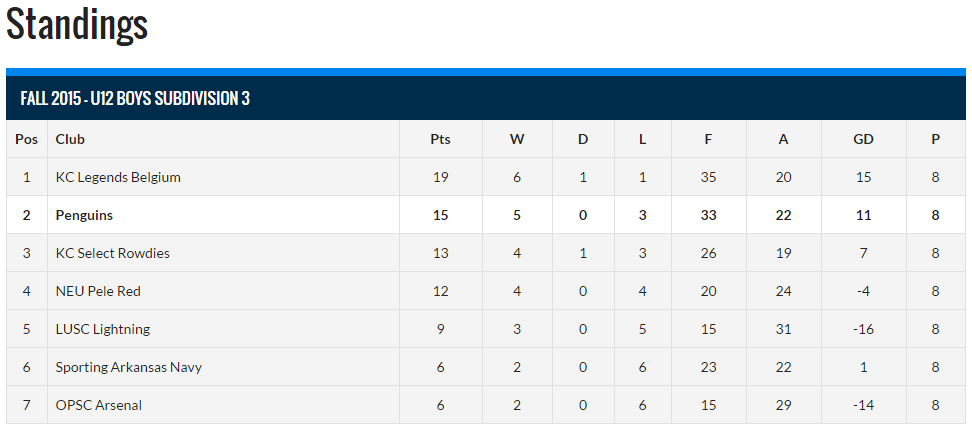 Track Player Performance
Statistics are used to display player performance measures and can be displayed on both Event Details and Player Roster pages.
Statistics are easy to track. As each sporting event is completed, you can quickly enter in statistics for each player into the event details form.
Customize Metrics and Results
myTeam provides industry standard presets for all sports to calculate team results and player statistics. For example, when a soccer match has ended, in the Event page you simply enter the "goals" for each team. myTeam will calculate the winner and loser and automatically assign values in your league table – 3 pts for a win, 1 pt for a tie, and 0 points for a loss. You also record player statistics in the Events page, such as goals, assists, and saves.
If your league uses different values than the preset formulas, you can change the calculations in the myTeam Equation Editor, say 5 pts for a win, 3 for a tie, and 0 for a loss.
You can also create as many custom player statistics as you wish, such as Minutes Played or Steals.
Display a Hall of Fame
You can easily display a listing of historical player performance statistics. You can label the display using any term you desire, such as "Hall of Fame", "Team Records", or "All Time Leaders".
myTeam keeps player records from all previous competitions, seasons, and teams. Our flexible admin tool allows you to mix-and-match from which competition, season and teams you like to display in any specific display. For example, you can display one table listing all-time leaders from all seasons, and separate tables for each season.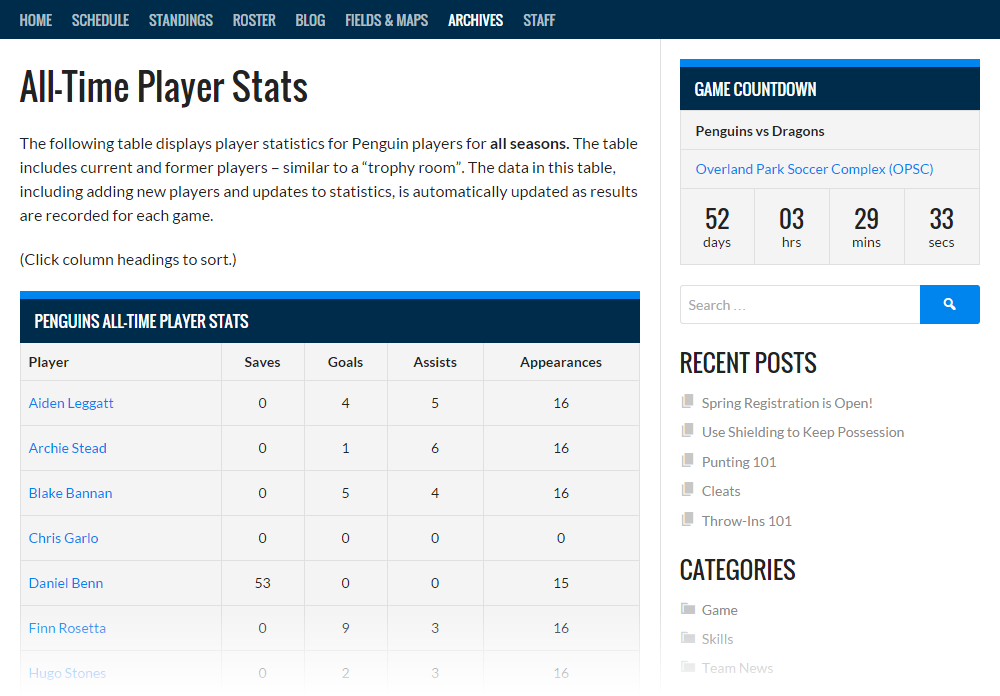 Photo Galleries with just a Few Clicks!
Present galleries of your team with just a few clicks. Organize your gallery any way you wish - into rosters, seasons, competitions, tournaments, etc. After selecting the images to include from your websites Media Library, thumbnails (smaller images) are automatically generated. You can even include text captions for each image.

Integrate with Social Networks
myTeam provides seamless integration between your website and social media tools such as Facebook, Twitter, or Instagram. Take the stress and effort out of having to post items in two platforms. myTeam allows posts in either platform to automatically feed to the other platform.
Blog
This optional feature is a great way to keep your website current with team news and coaching tips. You can organize your posts into a custom hierarchy of categories. It's also extremely easy to include YouTube videos and photos.
myTeam has a lot of flexibility on how a blog is displayed on your team website, so we'll be happy to consult with you can get the customized features and display you want. For example, you can display all your "team news" posts on your homepage to keep critical information in the forefront.
You can also use the "sidebar" to display the latest posts, comments, and categories. Readers can search you blog library and filter posts by date, category, or tags.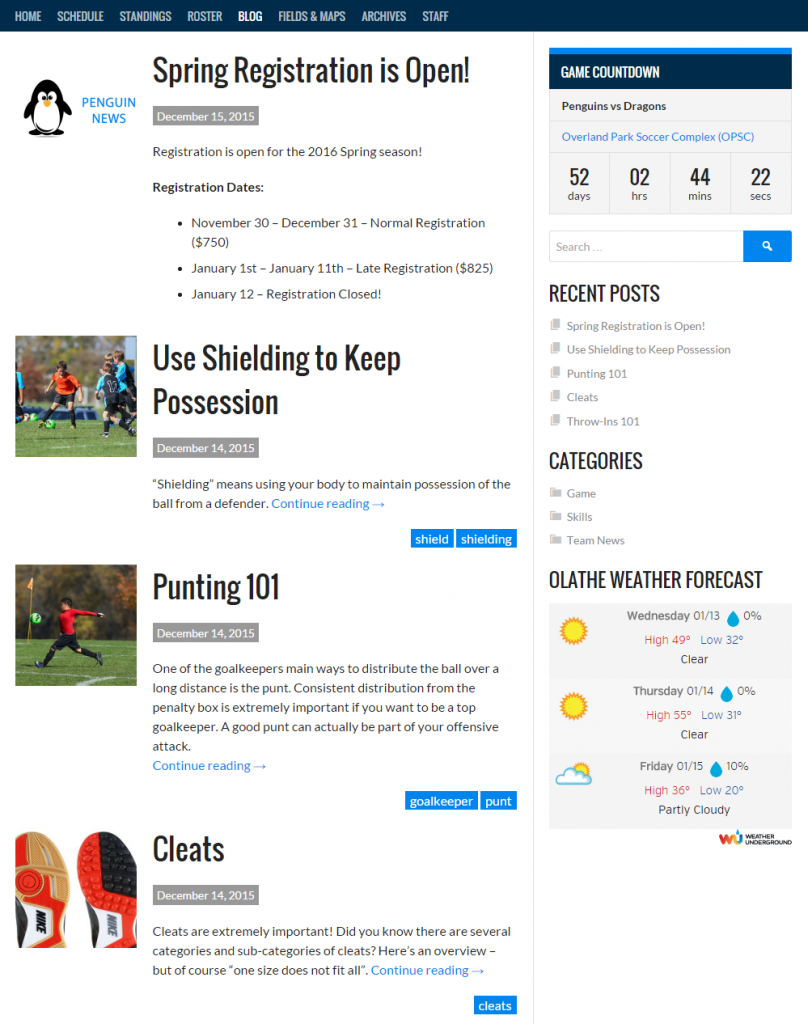 Email Newsletter
Send emails to players, parents and staff with team branding including logo and color scheme. We recommended. Offer full subscription services, so new readers can subscribe and existing readers can update their email addresses or unsubscribe.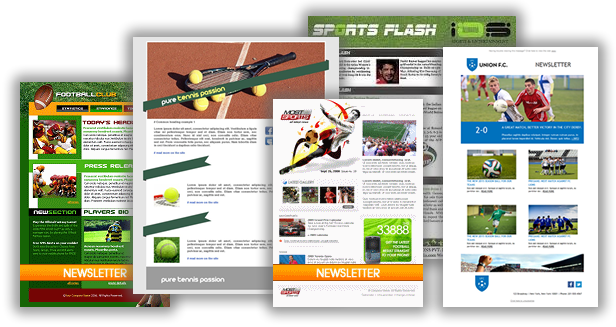 CUSTOM DESIGNS
Want your players, parents, and fans to instantly recognize your team identify feel at home when they visit your website? Yes! myTeam has numerous options to help you make your site recognizable not only in name but also in design. You can customize your website name, logo, headers, background, color scheme, photos, and more.
Logos
Already have a logo for your team? Maybe one you've used for your jersey's, previous website, or paperwork? You can upload your logo (.jpg, .png, .gif) to give your site that strong team identity.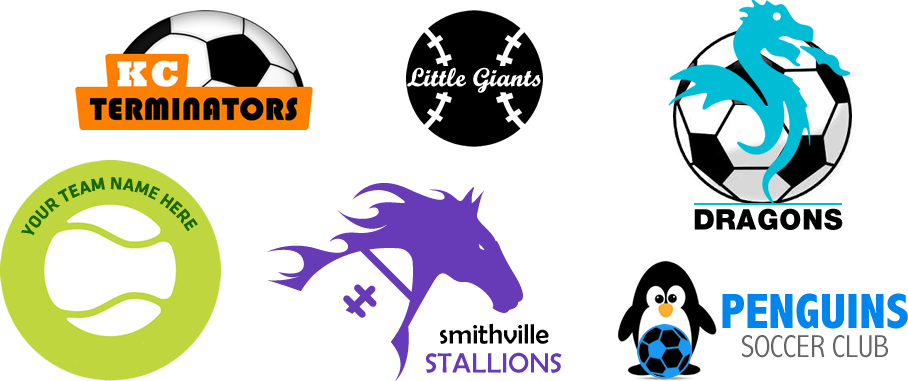 Backgrounds
Add some design to your website with a background image. Supply your own, or we can help you find the perfect graphic.

Color Scheme
A important part of your team identity is your team colors! Your myTeam website will reflect your team colors. Your site can be customized with the page background, header, menu, hyperlinks, table headings, and footers.